Never Say Boo to a Frilly, by Margot Finke and illustrated by Aysin Eroglu, is another book by my favorite transplanted Aussie author. This is the third book in her "Wild and Wonderful" book series about wild animals in the U.S. and Australia. In this installment, Ms. Finke introduces us to three different kinds of amazing animals from Down Under in three rhyming chapters. The first animal is the Australian Frillnecked Lizard. The second is a group of rainbow-colored birds. And the third animal is the Tasmanian Devil.
The Frillnecked Lizard, or a Frilly, as Ms. Finke calls them, are my favorites, especially when we learn they've been around since the dinosaur age. They're imposing when fiercely hissing.
The outback bush was home to him when Dreamtime ruled
He scuttled 'neath the dinosaurs and dodged their giant girth.
The amazing rainbow-colored birds include the Parrot, Cockatoo, Galah, and Lorikeet. They're raucous and wildly beautiful.
The wild Aussie birds enjoy freedom that's rare.
Their razzle-dazzle color make visitors stare.
The last animal is one with the imposing name of Tasmanian Devil, a voracious predator, who fears no creature.
Their mama will show them just how to stalk prey.
"You hunt when the sun sleeps or when creatures play."
All of these Aussie critters are brought to life by Turkish artist Aysin Eroglu. The animals are shown in their natural habitats and going about their daily activities in Australia. I especially appreciate her showing us day and night time animal activities.
A welcomed feature of this book is the listing of "Enhanced Vocabulary Words" at the bottom of each text page. This is important to students studying Australian animals for the first time. This book is also a good one for cross-curriculum studies:

Social Studies:

Australia; Geography; Science:

Animal Behavior; Habitats; Language Arts:

Poetry Study; Reading; and Writing. As I've said before, I'm a Margot Finke Fan and I recommend this book for children ages 7 to 12, elementary teachers, librarians, parents and grandparents. It's fun, kid friendly—enjoyable and educational.
The other two books in Margot Finke's "Wild and Wonderful" series are:
Kangaroo Clues.
All are available from www.amazon.com and www.barnesandnoble.com and other quality online book sellers.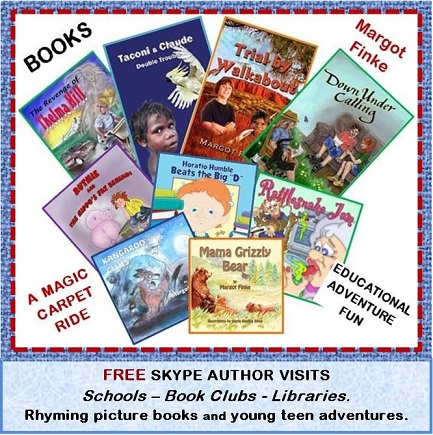 Tags: Aussie, Australia, Margot Finke, Magic Carpet Ride, Educational, Skype Author, Adventure, Frillnecked Lizard, Cockatoo, Parrot, Lorikeet, Galah, Tasmanian Devil, dinosaur, lizards, birds, Down Under, Australian Outback.