Bedtime Kisses, by Karin Larson, illustrated by Ginger Nielson, is a cute counting story especially suited to help little ones get ready for bed.
This is an endearing way to help children learn to count to ten while modeling values of love and kindness.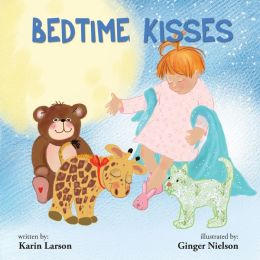 While waiting for mommy to come and tuck her into bed, the little girl goes around her room and counts out kisses for each of her stuffed animals and dolly. The little girl in the story is unnamed—she could be any and every child who wants to be like mommy and give bedtime kisses to all her special toys.
The artwork by Ginger Nielson is dreamy, frothy, and enchanting. The girl's room is a feast for the eyes. As each special toy is given their kiss and kisses, pink hearts help count out the number of kisses they receive. The little girl and the toys are warmly drawn with sleepy eyes and sweet smiling faces. Everyone is ready to be kissed and tucked into bed. After she kisses all her critter pals, our sleepy-time girl gets her own bedtime kisses from her mommy, and everyone goes happily to sleep
—

tucked in together all warm and cozy.
This is a darling, precious book. Children will enjoy the charming illustrations as they practice counting kisses until they fall asleep. It is a book they will want read again and again. I see it easily becoming part of their bedtime ritual—a lovely and loving way to learn to count to ten.
******************************
"As a child, I loved nothing more than getting lost in the worlds within the pages of books. This love of reading inspired me to be a writer, and my goal is to foster this love of books and reading in children today, despite the fast-paced, technological world in which we live. My experiences as both a mom and a working speech/language pathologist have allowed me to focus on both fiction and non-fiction for children and adults though my true passion is creating a story a child wants to read over and over again."
Karin Larson has a book under contract with Guardian Angel Publishing.
Tags: Bedtime Kisses, little girl, bedtime, night time, bedtime routine, tuck into bed, kindness, loving, getting children to bed, special bedtime routine.