Last week when I was subbing, I came across an Arthur story by Marc Brown, Arthur's Computer Disaster:
"Arthur loves playing games on his mother's computer, but when he uses it without permission, chaos ensues. Arthur and his cohorts search desperately for a solution, and in the process learn a lesson about following rules and respecting others."
It's a common enough problem these days. Kids want to play at whatever they're playing at and don't stop even when they're told to, they even sneak back when no one is looking. In this case, Arthur was told not to play on the computer and he does anyway while his mother is out. When it stops, he thinks he's broken the computer. He and his friends try to fix it before his mother comes home. Of course, there will be consequences.
This is a good story for kids to realize that when they make a bad choice, there will be consequences. They are responsible for their actions. This is a lesson that kids need to learn again and again. Everyone must be accountable for our decisions and actions. Sometimes we can fix things, but if we can't then we must accept responsibility, try to make it right, and make up for our mistake or error.
This time when I read this Arthur story, I wasn't thinking what an important lesson this is or what a good story idea this is, or how nice to see the familiar characters in Arthur's world. This time I was focusing on the artwork. Marc Brown is foremost an artist. Most parents know him as the creator of the Arthur book series which resulted in a much watched PBS TV series for kids. My child loved to watch Arthur on TV and as a teacher I've read Arthur books in school.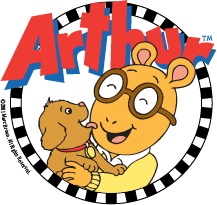 "Arthur, the little aardvark with a big agenda. Arthur is in the business of trying to make children successful. We are always on the lookout for issues that are important to children and families and present them through Books and Television in ways that are helpful, instructive and entertaining."
This time I really looked at the artwork. What Marc Brown shows in this book is a normal messy or cluttered family home. It's not neat and tidy. There are
pet
and
children's toys scattered all around. There are books piled up. The house looks lived in, not perfect. Everyone can see themselves in this little family. Both parents have jobs and the children have homework and chores. They do things together as a family and with friends. They have the same hopes, dreams, and problems we do. It's a great series.
On his website Marc Brown wrote:
"Although I'm better known for writing and illustrating all of the Arthur books, I think of myself more as an illustrator. Thirty-five years ago I began the wonderful Arthur adventure and now after writing and illustrating almost one hundred books about Arthur, I've decided to refocus my energies on illustration. For the last few years I've been experimenting with new techniques and having more fun than ever. There are so many new projects in the pipeline and I look forward to sharing them with you in the coming years." http://marcbrownstudios.com/work
We wish you much continued success with all of your future endeavors!
*************
Tags: Arthur Aardvark stories, Marc Brown, PBS TV, children's books.