By now you've noticed I'm featuring book series for Wacky Wednesday! Many of you have grown up with reading or know Jane Yolen's books from teachers. This intro is for those new to her books. Although she's written 300+ books in many genres, I'm focusing today on her "Dinosaur" series since I purchased
"How Do Dinosaurs Say Goodnight," (2000, illustrated by Mark Teague)
, for my nephew's toddler.
I love that book. (I even bought a stuffed toy dinosaur to go with it.) It's a perfect bedtime story for kids reluctant to go-to-bed . It emphasizes that even though your child may not want to go to bed at bed time, there's a right way and wrong way to "protest." Ms. Yolen does it with style and in rhyme: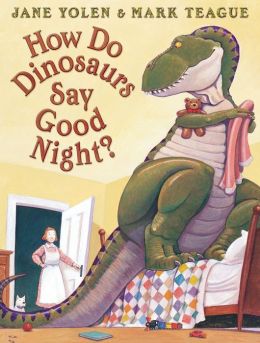 "How does a dinosaur say goodnight
when papa comes in to turn off the light?
Does a dinosaur slam his tail and pout?
Does he throw his teddy bear all about?"
It's funny to see huge dinosaurs listening to their puny human parents. But it makes its point in a cute and clever way.
There are many silly books in her dinosaur series, all dealing with subjects near and dear to parents' hearts: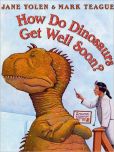 How Do Dinosaurs Get Well Soon? (2003)



How Do Dinosaurs Learn to Read? (2003)




How Do Dinosaurs Count to Ten? (2004)
How Do Dinosaurs Clean Their Rooms? (2004)
How Do Dinosaurs Play with Their Friends? (2006)
How Do Dinosaurs Go to School? (2007)

How Do Dinosaurs Learn Their Colours? (2007)
How Do Dinosaurs Learn Colours and Numbers? (2008)
How Do Dinosaurs Eat Their Food? (2010)
How Do Dinosaurs Love Their Cats (2010)

How Do Dinosaurs Love Their Dogs? (2010)

How Do Dinosaurs Go Up and Down? (2011)

Available at Amazon.com, BarnesandNoble.com, Scholastic.com


Read more about Jane Yolen at http://janeyolen.com/

J

ane Yolen is an author of children's books, fantasy, and science fiction, including Owl Moon, The Devil's Arithmetic, and How Do Dinosaurs Say Goodnight?

She is also a poet, a teacher of writing and literature, and a reviewer of children's literature. She has been called the Hans Christian Andersen of America and the Aesop of the twentieth century.

Jane Yolen's books and stories have won the Caldecott Medal, two Nebula Awards, two Christopher Medals, the World Fantasy Award, three Mythopoeic Fantasy Awards, the Golden Kite Award, the Jewish Book Award, the World Fantasy Association's Lifetime Achievement Award, and the Association of Jewish Libraries Award among many others. This website presents information about her over three hundred books for children. It also contains essays, poems, answers to frequently asked questions, a brief biography, her travel schedule, and links to resources for teachers and writers. It is intended for children, teachers, writers, storytellers, and lovers of children's literature.

***********

Tags: Jane Yolen, Mark Teague, Dinosaurs, Books, Series, How do Dinosaurs Say. . .