I substituted Friday as a Resource Specialist and worked with several small groups in math and reading. Three books were featured today: Alfa and Beto: The Biblioburros by Paula Morrow (in Fountas & Pinnell's Leveled Literacy Intervention program), A Bear Named Trouble by Marion Dane Bauer, and Stay Away from Simon by Carol Carrick, illustrated by Donald Carrick.
The first book, Alfa and Beto: The Biblioburros by Paula Morrow, was a non-fiction story about Luis Soriano, a teacher in Colombia whose missionis bringing books and education to children in the rugged, high mountain areas. These children have little access to education, schools, and libraries. So Mr. Soriano visits 15 different villages bringing books to share the joys of reading, and teach children and adults to read. His two burros carry the books, hence the name "Biblio-Burros."
There are only two rules for children to borrow books from the Biblioburros mobile library:
"1. Wash your hands before reading a book.
That way, the book will not get dirty.
2. Don't write on the pages."
It's a good story to help inspire reading and volunteerism in children. They can see how important books, libraries, and reading are and how privileged they are to have access to these things in their schools and neighborhood.
*********************************************
The second book, Stay Away from Simon, by Carol Carrick and illustrated by Donald Carrick, is a nice middle grade story about how prejudices about mentally handicapped, "slow" and simple children (and adults) can cause unnecessary stress, fear, and hurt.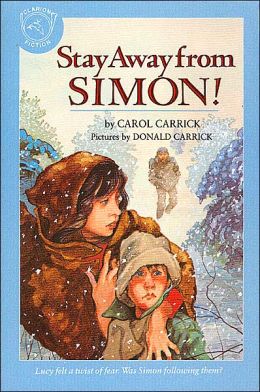 Lucy and her younger brother, Josiah, are frightened when they see that Simon, the hulking miller's boy, is following them home from school in a snowstorm. They've heard stories about how Simon "isn't quite right in the head" and is dangerous. They've been told to stay away from him and don't understand why he's following them.
This is a good story to help teach understanding about and compassion for people with mental disabilities. The story is easy to read and the ending is strong and offers a valuable lesson. The illustrations by Donald Carrick are excellent and provide insight into life in a rural town in the early part of the century.
There are many other books by Carol Carrick listed here on Amazon:
http://www.amazon.com/Carol-Carrick/e/B001H6IWXS/ref=ntt_athr_dp_pel_1
************************************************
The third book is A Bear Named Trouble by Marion Dane Bauer. The story is told in part from the perspective of a young adolescent bear, "Trouble," who's been pushed out into the world by his mother and Jack, the son of a zookeeper, newly relocated to Anchorage Alaska zoo. Both Trouble and Jack have lost their familiar home and find themselves in new territory. Trouble behaves like the wild animal he is and Jack, a curious and imaginative boy, finds as much trouble as does the bear. The is another middle grade book but with strong images and hard life lessons.
*******************************************
Newbery Honor Winner Continues to Challenge Herself--
and Readers--Twenty-Five Years Later
http://bit.ly/25mdane
*******************************************
Marion Dane Bauer is the author of more than eighty books for young people, ranging from novelty and picture books through early readers, both fiction and nonfiction, books on writing, and middle-grade and young-adult novels. She has won numerous awards, including several Minnesota Book Awards, a Jane Addams Peace Association Award for RAIN OF FIRE, an American Library Association Newbery Honor Award for ON MY HONOR, a number of state children's choice awards and the Kerlan Award from the University of Minnesota for the body of her work.
http://www.amazon.com/Marion-Dane-Bauer/e/B000APBP2C/ref=ntt_athr_dp_pel_1
***********************************************
I enjoyed all three books, though they're quite different and the third book had some scenes that were hard to read.
Tags: Children's books, libraries, books, Colombia, Mental handicap, learning difficulties, learning challenges, Trouble, Bear, Alaska, zoo life, dreamer, loss, pain, loneliness