I was surprised when one student thought Disney wrote all those fairy tales! We have to make sure our folk heritage is passed on to the next generations, especially if they're from all over the world.
Find the classics, but since this is Wacky Wednesday. . .
If you haven't already checked out James Marshall's books, here are some funny fairy tales, retold in a funny fashion:

The Three Little Pigs (Reading Railroad)

Red Riding Hood (Retold by James Marshall)

Goldilocks and the Three Bears (Picture Puffin Books)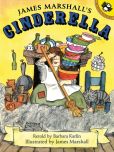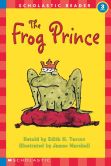 Hansel and Gretel (Picture Puffins), James Marshall's Cinderella, The Frog Prince (Hello Reader)
Also, you'll want to look at Jon Scieszka's

The True Story of the Three Little Pigs, and


The Stinky Cheese Man and Other Fairly Stupid Tales
And from Trish Speed Shaskan:

Seriously, Cinderella is SO Annoying: The Story of Cinderella as Told by the Wicked Stepmother. . .the Other Side, and

Honestly, Red Riding Hood Was Rotten: The Story of Little Red Riding Hood as Told by the Wolf. . .the Other Side.
It's a good idea to start with the originals before veering off into the hilarious! Enjoy!