How many of you parents, grandparents, and teachers have committed the beginnings and more of your favorite Dr. Seuss books to memory? I love them all, but three of our favorites are: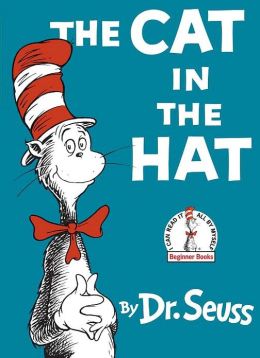 The Cat in the Hat:
"The sun did not shine.
It was too wet to play.
So we sat in the house
All that cold, cold wet day.
I sat there with Sally
We sat there, we two.
And I said 'How I wish
We had something to do!'
Too wet to go out
Too cold to play ball.
So we sat in the house
And did nothing at all."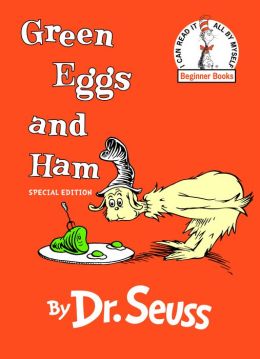 Green Eggs and Ham
"Do yo like
green eggs and ham?
I do not like them
Sam-I-am.
I do not like
green eggs and ham."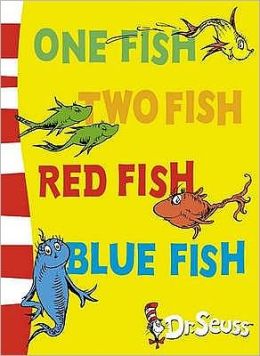 "One Fish
Two Fish
Red Fish
Blue Fish
black fish
blue fish
old fish
new fish.
This one has a little star.
This one has a little car.
Say! what a lot of fish there are. . ."

Teachers, children, parents, and grandparents celebrate Dr. Seuss and his books (and children's literature) the first week of March. Thank you Dr. Seuss for bringing such fun to children's books. Here is the rest of the Dr. Seuss Biography (continued from Barnes and Noble website. Please note special insights and tidbits at the end):
Dr. Seuss Biography:
"Geisel was named president of Beginner Books, a new venture of Random House, where he worked with writers and artists like P.D. Eastman (Go Dog Go, Are You My Mother, Red, Stop! Green, Go!), Michael Frith (I'll Teach My Dog 100 Words), Al Perkins (The Nose Book, The Ear Book), and Roy McKie (My Book about Me, Would You Rather be a Bulldog), some of whom collaborated with him on book projects. For books he wrote but didn't illustrate, Geisel used the pen name Theo LeSieg (LeSieg is Geisel spelled backwards).
As Dr. Seuss, he continued to write bestsellers. Some, like Green Eggs and Ham and the tongue-twisting Fox in Socks, were aimed at beginning readers. Others could be read by older children or read aloud by parents, who were often as captivated as their kids by Geisel's wit and imagination. Geisel's visual style appealed to television and film directors, too: The animator Chuck Jones, who had worked with Geisel on a series of Army training films, brought How the Grinch Stole Christmas! to life as a hugely popular animated TV special in 1966. A live-action movie starring Jim Carrey as the Grinch was released in 2000.
Many Dr. Seuss stories have serious undertones: The Butter Battle Book, for example, parodies the nuclear arms race. But whether he was teaching vocabulary words or values, Geisel never wrote plodding lesson books. All his stories are animated by a lively sense of visual and verbal play. At the time of his death in 1991, his books had sold more than 200 million copies. Bennett Cerf, Geisel's publisher, liked to say that of all the distinguished authors he had worked with, only one was a genius: Dr. Seuss.
Of Interest:
The Cat in the Hat
was written at the urging of editor William Spaulding, who insisted that a book for first-graders should have no more than
225 words
. Later, Bennett Cerf bet Geisel $50 that he couldn't write a book with just 50 words. Geisel won the bet with
Green Eggs and Ham,
though to his recollection, Cerf never paid him the $50.
Geisel faced another
challenge
in 1974, when his friend Art Buchwald dared him to write a political book. Geisel picked up a copy of
Marvin K. Mooney Will You Please Go Now!
and a pen, crossed out each mention of the name 'Marvin K. Mooney,' and replaced it with 'Richard M. Nixon.' Buchwald reprinted the results in his syndicated column. Nine days later, President Nixon announced his resignation.
The American Heritage Dictionary
says the word
'nerd'
first appeared in print in the Dr. Seuss book
If I Ran the Zoo
:
'And then, just to show them, I'll sail to Ka-Troo
And bring back an It-Kutch a Preep and a Proo
A Nerkle a Nerd and a Seersucker, too!'
The word 'grinch,' after the title character in
How the Grinch Stole Christmas
, is defined in
Merriam-Webster's Collegiate Dictionary
as a
killjoy or spoilsport
."
Full name:
Theodor Seuss Geisel ; also: Theo LeSieg, AKA: Dr. Seuss
Date of Birth: March 2, 1904
Place of Birth: Springfield, Massachusetts
Date of Death: September 4, 1991
Place of Death: La Jolla, California