In setting up my weekly schedule, I intended for Fridays to be Free-days, wherein I would write, shop, run errands, spend time with my pets, and generally just kick back and chill. Since it's a free day (no tutoring students scheduled), I've signed up to substitute teach. On any given Friday, there's the possibility of "subbing" each week at a new school. What I enjoy most about subbing is seeing what schools are doing and what books they're reading.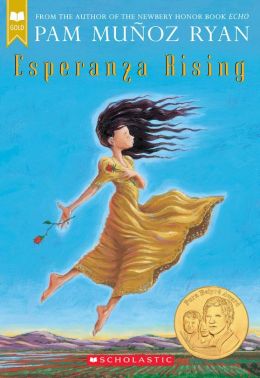 Last week I subbed first at a middle school in Special Education.
They were working on Reading Recovery, Algebra concepts, and reading Esperanza Rising, by Pam Munoz Ryan. It's a heart-tugging
story for
middle graders about a young Mexican immigrant farm worker who needs work to raise money to bring her grandmother from Mexico to California to help her mother, who's extremely ill with Valley Fever.
It's a coming of age story and also a "riches to rags" story of how Esperanza's family goes from wealthy landowners in Mexico to poor immigrant farm workers in California in the 1930's, and how they -- especially Esperanza -- deal with their changed circumstances.
The title, Esperanza Rising, is a cross language and cross cultural word play. Esperanza means hope in Spanish and she has hope that she will get the money she needs. Esperanza is also rising to the challenge of helping her family.
Be forewarned, there is brutality, tragedy, and a sober look into the harsh reality of labor camps. A very good read for 5th, 6th,
and 7th graders, that can also be enjoyed by older readers.
In my second day of subbing, I was at an Elementary Special Education class and I got to read a couple of books that are perfect to discuss in my Wacky Wednesday post next week. So please return for There was an Old Lady Who Swallowed a Rose, one of a series of themed books written by Lucille Colandro, and illustrated by Jared Lee.
I enjoyed my two days of subbing, but I got the "new school cold." Apparently, teacher "folklore" has it that one gets sick each time one goes to a new school. Since I went to two schools, it was bound to happen. Either that, or an attack of very bad allergies from the early blossoming trees hereabouts. While recovering, I wish you all a safe, restful, and pleasant weekend. Please return for more Monday Madness and angst in parenting an 18 year old.