Manny the TV Watching Dog, written by Linda Derkez and Mike Derkez, and illustrated by Nina Marie Rothfuss, is a delightful story that children and doting pet owners alike will enjoy. Inspired by the Derkezes' real life dog, Manny is a fun story about how hard it is to get your sweet dears – dogs and kids – to do what you want them to do.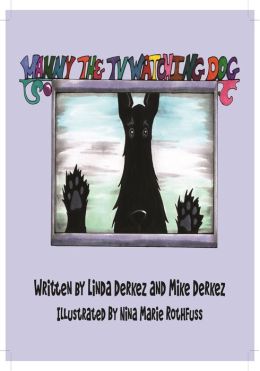 The book begins with Manny answering an ad for a cleaner, cook, and babysitter in chapter one. Of course, Manny says "I can do that" when asked about her cleaning, cooking, and babysitting skills. Then we get into the story and find that Manny's main skill is TV watching! Hmmm, does that remind you of anyone you know? It's so easy for any of us to get distracted by the TV and fritter away hours watching our favorite shows (or even watching online). Manny is no different. Still, it's as much fun for us to watch her "at work" as it is frustrating for the Master to see that Manny is no great shakes as a housecleaner, cook or babysitter.
Her next adventure is getting ready for bed. Although everything she does is exaggerated for humor's sake, parents will easily relate to how frustrating it is trying to get a child into bed.
There's snack time, bath time, story time, drink time, potty time – preparations drawn out in getting our darlings into bed and, finally, asleep. This is the perfect bedtime chapter to read to your dawdling toddlers.
In the final chapter, Manny "helps" get her things together for moving day and the movers to load. She keeps getting distracted and Master has to come and finish the jobs he's asked of her. Again, there is much relatable frustration and humor in keeping little ones on task and moving in the right direction.
The artwork, by Nina Marie Rothfuss, is another treat in this little chapter book. Manny is beautifully portrayed doing all her little tasks, to the best of her ability, but so cute, darling, and funny, that kids and parents alike will delight in pointing out the silly things that are pictured. This is a fun and funny book that will be enjoyed over and over again. Recommended for children ages three to seven -- plus parents, teachers, and grandparents.
Read more about Linda Derkez at:
Manny the TV Watching Dog
is published by Wee Creek Press, an Imprint of Whiskey Creek Press,
www.weecreekpress.com